Baby Bonnets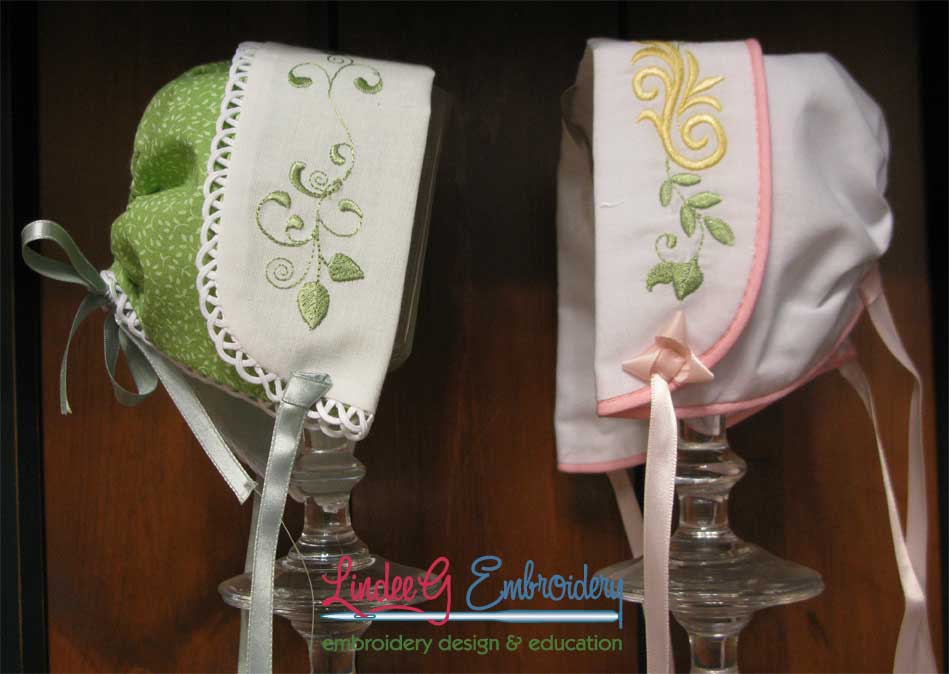 Project Description
Building Block designs are perfect for combining; it's what they were made for!
These two bonnets are simple to make. I've embellished the brims with a continuous border composed of small designs and finished the edged with piping. Ribbon is laced through a casing in the back to cinch up the bonnet.
I was inspired to make these bonnets after seeing a similar one on Martha's Sewing Room, a PBS sewing show focused on heirloom sewing techniques. I've been a guest on Martha's show many times!
As it turns out, I'm just able to embroider the brim in one hooping on my 12 needle machine but you likely need to figure out how to split it and rehoop it for your machine.
The green bonnet is stitched with leaves from Leaves Building Blocks.
The white bonnet is better suited to a baby girl and also uses some Leaves Building Blocks. in addition to Delicate Roses and Elegant Scrolls.
All three of these sets are perfect for creating heirloom style designs and yet aren't limited to that genre.
Credits
Designed and made by Lindee Goodall (5/10/2011)
Products Used
Related Articles