3D Butterfly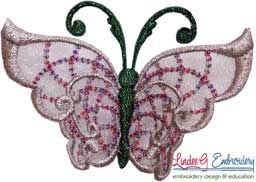 Project Description
p>I've thoughtfully planned all the butterflies on Winged Jewels so that they can be used either as direct embroidery or be stitched in two hoopings for 3D Wings.
This sample was stitched with Softlight Metallic thread. Stitch the wings on nylon organza, stop the machine, and cut out.
Hoop the fabric you for the background (where the body will attach the wings) and stitch the placement color. Position the wings and secure for stitching and then finish the design.
Credits
Designed and made by Lindee Goodall (10/23/2010)
Products Used