Creating interesting text effects in Embrilliance is easy! See how to quickly create a dropped cap in Embrilliance Essentials.
Note: The link shown in the video is no longer valid due to a website change. Use the ones at the bottom of the page.
---
Try Embrilliance for Free!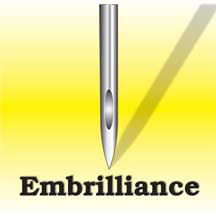 Embrilliance software works natively on both Macintosh and Windows and comes in a level for every embroidery user from novice to advanced embroiderer.
Related Products
---