What's the first thing you notice about embroidery on an item? Placement!
What's the second thing you notice about embroidery on an item? That's it smooth, wrinkle and ripple-free, and that it has good registration (no gaps).
Both of these are a function of hooping. For embroidery quality, you must hoop in the right location with the right hoop and fabric tensions. Of course, appropriate stabilizers are required.
Hooping Accurately is Difficult!
Getting the hoop properly placed can be tedious and frustrating without the proper hooping aids. Ever tried to hoop a tee shirt smoothly without one?
You have to slide the outer hoop inside the tee with a layer of cutaway then try to get the inner hoop aligned properly without shifting the stabilizer and getting both parts of the hoop in the right place. The final result needs to have the fabric smooth, wrinkle-free, and unstretched with the stabilizer firmly and completely hooped underneath.
In my experience, most people will re-hoop no more than 3 times. If it's not correct by then, they declare it good enough and just go for it. I don't know about you, but generally "good enough" really isn't good enough.
If you don't take the time to hoop accurately before embroidering, there is no fixing it later! Your entire project looses quality!
What's the Solution?
The solution is to use a good hooping aid. What's that?
It's a gadget that will hold your hoop and stabilizer in place while you position your garment or other item, which itself is held in place while you insert the hoop. When you use the right hooping aid, you can dramatically reduce hooping time and hooping errors.
What to Look For in a Hooping Aid
You want one that is solid and sturdy. It needs to be able to hold your hoop securely; the hooping aid should not slide around when you press the hoop in.
It needs to be easily adjustable and work with flat items as well as tubular. Keep in mind shirts come in a range of sizes and you may need different options for say, youth and adult garments as well as sleeves and baby onesies.
I've been using hooping aids since 1995. I've used expensive ones and inexpensive ones. The first one I had was $700 and only worked with adult shirts and you had to buy a custom bracket to fit your hoops. Have two different machines? Then you need to buy two different brackets.
My next one was a very inexpensive model. It too only worked with adult garments. It could work with more hoops but it was not as efficient or as accurate as the first one. Add, it broke easily.
Both of these models were based on a "pegboard" model. To change the hoop placement, you had to remove and re-screw the little holders. It was a clumsy procedure and I can't tell you how many times I dropped a part.
Why couldn't someone invent something simpler?
My New Favorite Gadget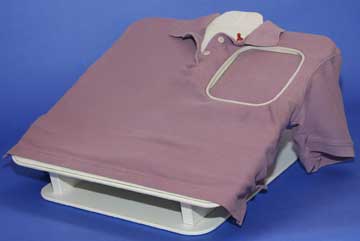 Well someone has!
My ever-inventive friend, Gary Walker of Echidna Sewing Products in Queensland, Australia has and it's called the Echidna Hooping Station. I'd like to say I had a hand in this but I think the only part was that I wanted to use such an item in my class at his convention and he didn't like the current options.
What Makes the Echidna Hooping Station Different?
For starters, no pegboard! The Echidna Hooping Station uses magnets to hold the hoop. This means you are not restricted by the placement of the holes nor do you have to fumble around screwing small pieces into them. You just move the magnets—which are deceptively strong. Even arthritic fingers handle them with ease.
The second innovation is that the product is double-sided. One side is a youth size and the other is an adult. No need for multiple hooping aids, one serves both purposes—just flip it over.
In actuality, it is more than double duty. Like similar aids, the working side is slanted. Unlike other models, a thin rubbery non-slip surface allows you to work on flat items. The pegboard models are all very slippery meaning I had to have a flat version for hooping items like quilt blocks.
Not so with the Echidna Hooping Station. You can hoop both tubular and flat items with ease.
Who Needs One?
If you are a home embroiderer, you might be wondering why you need one. Wouldn't you rather spend more time creating embroidery than hooping? Do you want smooth and accurate placement with less stress on your hands?
Time is valuable and none of us can get more of it. What we can do is make our tasks more efficient. Wouldn't you rather do more productive things?
Want to See How It Works?
Watch this video on the importance of hooping and see how the Echidna Hooping Station can improve your hooping!
Where to Get Your Own!-UPDATE
We now have new models of the hooping stations in 2 sizes!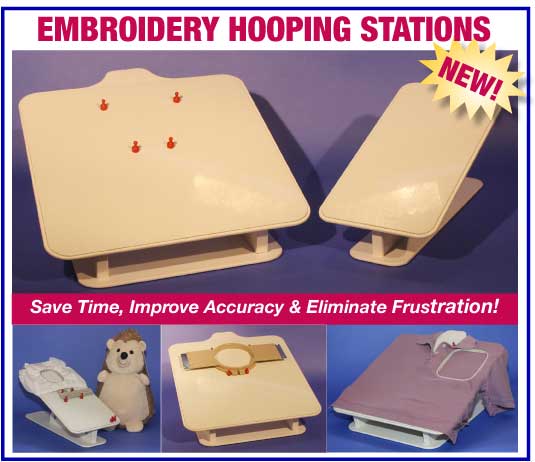 Why Hooping Correctly Is Important
Hooping is part of the stabilizing process and a
bad hooping can't be undone after sewing!
Proper hooping can:
Eliminate registration problems
Prevent puckering
Embroidery lasts the lifetime of the garment so why unnecessarily shorten it with a bad hooping?
Why Use a Hooping Aid?
Hooping aids such as the Echidna Hooping Station can make hooping:
Easier
More efficient (no more chasing the hoop around on a slippery table)
More accurate
And who doesn't want that?
How a Hooping Station Can Save You Time & Money
Since a hooping station can make you more efficient and accurate at hooping, it also means you'll be more productive and have less waste. Your hooping station will easily pay for itself over time!