Learn how to create an embossed monogram perfect for personalizing terry cloth towels and other plush items.
Using artwork from the Library included with Embrilliance Stitch Artist and a True Type font character from your computer, you'll learn how to create a void (or "hole") for the font, add the lattice stitching, and finish with satin borders.
This project can be completed with just Stitch Artist Level 1 and requires no drawing or tracing. All you do is select shapes, apply stitches, and adjust attributes.
I explain why some fonts work better than others and why you might want to adjust densities and underlay for terry cloth.
Related Articles
Related Products
---
Try Embrilliance for Free!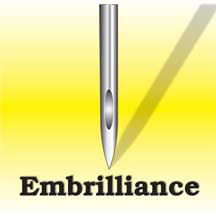 Embrilliance software works natively on both Macintosh and Windows and comes in a level for every embroidery user from novice to advanced embroiderer.
Related Products
---