This is one gadget that is on my must-have list of top embroidery machine accessories.
On first glance, you might think it's no different from those thread stands you buy at the sewin store to use with larger cones of thread but there's one significant difference: the spool pin on this one telescopes.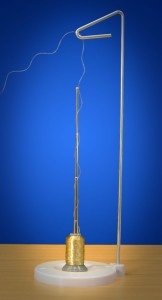 Why is that important? You can adjust the height of the spool pin to the correct height. Fully extended, it can prevet specialty threads (including metallics) from twisting and knotting—which can dramatically reduce thread breaks.
As you stitch, the thread is released from the top of the thread spool and curls itself around the shaft of the thread stand. From there is travels in an upward spiral motion resulting in a smooth, even feed to the machine.
With the Echidna Control-A-Twist it doesn?t matter what type of thread that you are using, or the spool size as it has an extendable shaft to adjust to the correct height.
Trouble free stitching every time!
Watch a video with Gary Walker, the inventor.
MY AFFILIATE LINKS DISCLOSURE
Hi everyone. Just to let you know that some of the links on this site are affiliate links. What that means is that if you click one of them and buy something… I get a commission. It doesn't cost you anything extra and I only recommend things that I've tried and tested, so please, please, please… use my links.
Fine Print: Lindee G Embroidery is a participant in the Amazon Services LLC Associates Program, an affiliate advertising program designed to provide a means for sites to earn advertising fees by advertising and linking to amazon.com. Lindee G Embroidery is also an affiliate for Embroidery.com, Nancy's Notions, Embrilliance, and Craftsy. If you purchase something through one of those links I may receive a small commission, which helps to offset the cost of running this site. 🙂

If your local dealer doesn't carry these, order online from:
As I write this, this product is currently on sale at embroidery.com until 6/10/2009 for $15.96 (regular price $19.95). Aussies, become a Platinum Club member to get a discount.
RELATED ARTICLES