Vintage Miniature Sewing Machines Quilt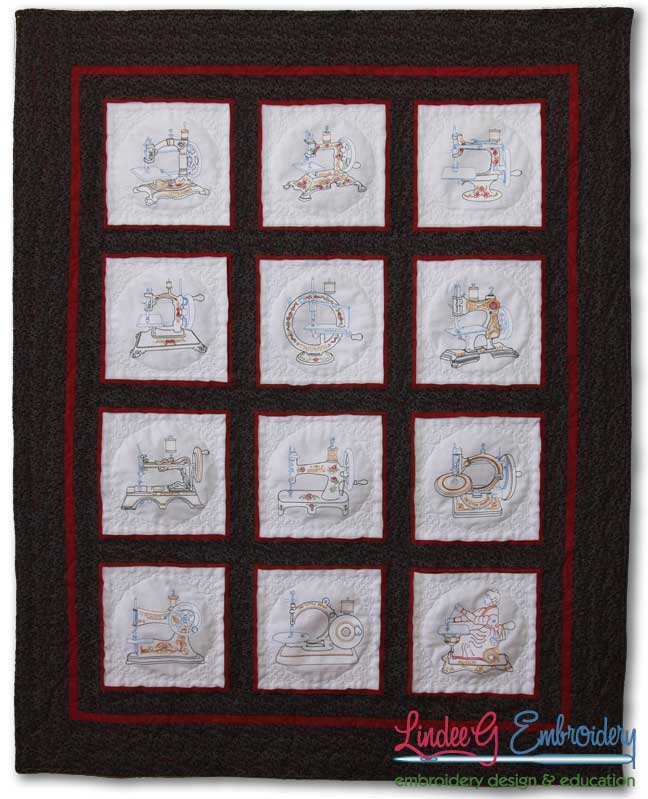 Project Description
This quilt features the 12 Vintage Miniature Sewing Machines in the 5×7″ multi-color size. These two collections were digitized from hand-drawn illustrations by Ella & Skyse of children's vintage miniature sewing machines.
Each of 12 machines is digitized as either a 4-color design or a single color one.
And no, you can't take the multi-color and just make it one color unless of course, you don't mind a lot of unnecessary jumps and trims! Each machine is available in 3 sizes. I used the middle size for this quilt.
I originally stitched all the blocks on white (prewashed) cotton used 60wt cotton thread and a wash-away backing. However, when I washed the blocks to remove the stabilizer the thread shrunk! I had puckers that could not be removed.
However bad that was, at least it happened before I pieced my quilt top!
I restitched every block with polyester thread. After piecing, I had it quilted by a local quilt shop. Not sure that I really like how they did it—the designs puff up an awful lot in the center.
Credits
Designed and made by Lindee Goodall (10/8/2013)
Products Used