In-the-Hoop Mini Zips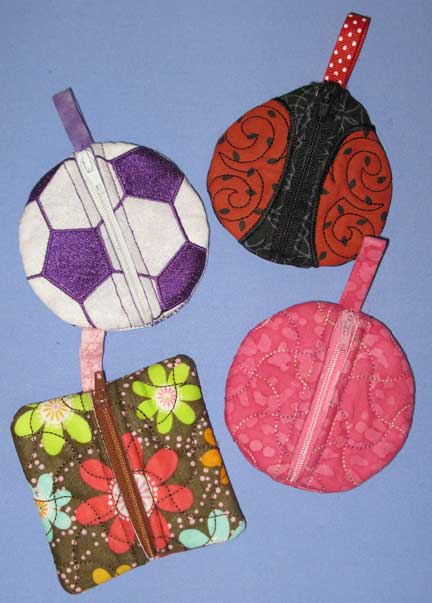 Project Description
Only have a small hoop? No problem! You can still make in-the-hoop zippered projects in a 4×4″ sewing field.
This set has four complete projects: a ladybug, a soccer ball, a round, and a square mini zip. Each is quilted and embroidered on both sides and are perfect for holding change and keys or protecting your jump drives or software dongles.
I was inspired to make the ladybug when I had a recollection of a flexible plastic ladybug coin purse from when I was a kid. You probably know the kind—an oval shape with a slit down the middle that you squeeze to open.
In-the-hoop projects like these are basically an applique technique. Placement lines are stitched and you layer various elements according to the instructions. To have both an embroidered back and front means that these are not single hoop projects.
After the final stitching, remove the project from the hoop, trim off any excess fabric, and turn right side out. You're done!
Credits
Designed and made by Lindee Goodall (3/12/2013)
Products Used