Elegant Scrolls Sweater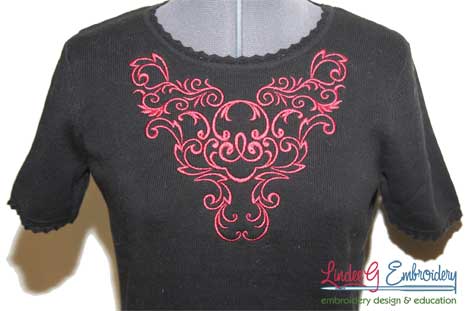 Project Description
Building Block embroideries are specifically designed to allow you creative license to build your own compositions. I used a purchased black, short sleeve pullover sweater and stitched with Strawberry Red Softlight Metallic thread.
I used most, if not all, the designs included with Elegant Scrolls Building Blocks to create a large full front design, shaping the placement to flow around the neck and taper down into a figure enhancing "V."
Tip: Build one side and then mirror for the other.
Other notes: Two layers of black no show mesh stabilizer and black bobbin thread.
Unlike other metallic threads, Softlight can be substituted thread for thread with 40wt poly or rayon embroidery thread. It's softer than other metaillics so you won't end of with a scratchy, itchy, uncomfortable garment. Plus, it's less shiny so using it in a large, full cover design won't look gaudy.
Credits
Designed and made by Lindee Goodall (3/19/2011)
Products Used
Related Articles