OK, so I got a bunch of requests from readers who wanted the Building Block mini-sampler in a format they could use with their own software. Well, guess what? Your wish has been granted!
The Free Embroidery Design Mini-Sampler
Of course, you won't have near the flexibility that you do with Building Blocks but they are nice little designs to have in your collection.
The best way to describe Building Blocks is that they are generally smaller, simpler designs rather like dingbats that are meant for combining with other designs, whether those are other building blocks, imported embroidery designs or of your own creation.
Keeping them lower in stitch count and color count makes them more useable. Having them in native format—if you own Generations and use either the MNG or GEN formati—lets you resize, change stitch types, and have more control over the design.
Save
Save
Save
Where to Get More Designs Like These
All the other building block designs are also converted to multi-format and you can choose from 8 different collections:
Update: Individual designs from these collections are now also available in stitch file formats only.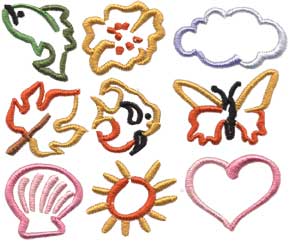 So What's the Big Deal With Building Blocks & Generations?
The main thing is flexibility and ease of use. When you have a design file in a native format – a design file created in the software you use, not an exported stitch file for your machine – you are in control! You can do all sorts of magical things quickly and easily.
UPDATE 2012
As newer and more modern programs are introduced—especially when they are better priced, easier to use, better supported, and work on both Mac and Windows—they supersede older ones. Such is the case with Embrilliance and Generations.
Embrilliance makes it much easier and more affordable to do a range of embroidery tasks and plans call for it becoming a full range product over time. Embrilliance does an amazing design with resizing even when working with just stitch files.
While any products made for Generations will remain on our site, we will no longer be adding to this product line nor providing support for Generations software.
Save
Save
Save