OK, so I got a bunch of requests from readers who wanted the Building Block mini-sampler in a format they could use with their own software. Well, guess what? Your wish has been granted!
The Free Embroidery Design Mini-Sampler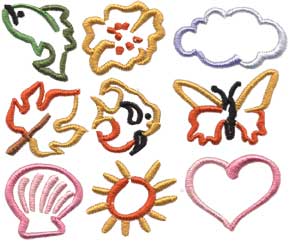 Of course, you won't have near the flexibility that you do with Building Blocks but they are nice little designs to have in your collection. To get this collection, just complete the form below and you can have instant access to these designs, shown here are actual size.
The thank-you form will give two links. The first is for the Generations version and the second is the multi-format version.
This is the only time you'll see the form but when you confirm the email (or if you're already confirmed) an email will be sent to you with the links in case you need to re-download.
Where to Get More Designs Like These
All the other building block designs are also converted to multi-format and you can choose from 8 different collections;
So What's the Big Deal With Building Blocks & Generations?
The main thing is flexibility and ease of use. When you have a design file in a native format – a design file created in the software you use, not an exported stitch file for your machine – you are in control! You can do all sorts of magical things quickly and easily.
Occasionally, the folks over at Generations offer a test drive. This is a special opportunity to have a full version of the software, attend specially created webinars that teach you how to use the software, and a defined period of time to try out, or "test drive" the software. Have you ever downloaded one of those free try-it-for-for-30-days software trials but then the trial expired and you never played with it? Why? Because you didn't know where to start! Wouldn't it be nice if someone showed you what to do? Well that's exactly how the test drive works!
Sound enticing? Find out more about a Generations test drive.